Your daily dose of Fashion Facts. This blog is made up of the latest fashion news, fashion do's and dont's, fashion styles, shows and events, and a lot more about the amazing world of fashion.

Fashioninformation is also the place where a 19-year-old fashion enthusiast blogs about her experiences in life, fashion-related or not, with the aim of informing others as well.

This blog will also feature diy projects, online fashion stores and even online fashion blogs.
FOR PRODUCT REVIEWS/FEATURE, SEND A MESSAGE HERE.

EVERYTHING FASHION:
MORE ABOUT FASHION:
FASHION-ORIENTED SHOWS:
*The Rachel Zoe Project
*Project Runway
*The Fashion Show
*How Do I Look?
FASHION STORES ONLINE:
*Forever 21
*Topshop
*YesStyle
*Zara
CHECK OUT THESE SITES:
*Forever21.com
*YesStyle.com
Add a link to your site here:
Message me.
Your Daily Dose of Fashion Inspiration is on Top 15 of Top Blogs!
Visit my other blog
here.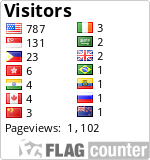 SITE UNDER
MAINTENANCE